HTGYG Show #45: Interview with Tracy Hickman and Xtreme Dungeon Mastery
[ 41:28 ]
Play Now
|
Play in Popup
|
Download
This week, I am delighted to present my interview with Tracy Hickman, accomplished author and a true gentleman. We talk about his body of work, including the Dragonlance books, as well as his new book Xtreme Dungeon Mastery, which can help us make our pen-and-paper games much more fun and exciting. We had so much great material that I am saving some of his writing and parenting advice for another show soon! He is pictured below with his wife and writing partner Laura Hickman.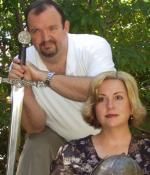 A review from an experienced DM
Above, Tracy Hickman is pictured with writing partner Margaret Weis. (Photo by Eva Schiffer)
Thanks for all the input, and keep it coming! And, if you have some time, I would appreciate a review on iTunes!
Don't forget to check out the 365 Days of Astronomy Podcast!
Please email me with your own comments at howtogrowyourgeek – at-gmail -dot-com, or call my voicemail number at 206-202-7309 and leave your thoughts. You can also visit our forum at the Farpoint Forums. And last but not least, you can follow me on Twitter!
Promos: Slice of SciFi and The Dragon Page Cover to Cover