HTGYG Show #114: Science and History Podcasts for Kids & Teens
[ 27:40 ]
Play Now
|
Play in Popup
|
Download
Hey everyone! This episode I talk about some of my favorite science and history podcasts for kids, teens and adults. By no means are these all that are out there, but these are some that I regularly listen to and enjoy!  Here are the links!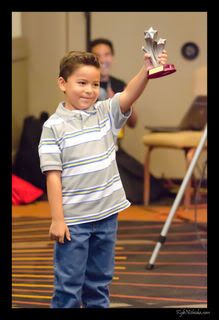 Here's Aaron and his Parsec Award! (Photo by Kyle Nishioka at kylenishioka.com)
Aaron's World – A young boy shares his love and knowledge of dinosaurs – great for all ages!
Princess Scientist's Book Club – Princess Scientist and her parents share the books that they've been reading.
Astronomy Cast – Pamela Gay and Fraser Cain present astronomical topics in easy-to-understand detail for non-scientists – and they're fun to listen to as well!
Monster Talk – Blake "Doctor Atlantis" Smith, Ben Radford, and Karen Stollznow discuss cryptozoology – the study of animals that haven't been proven to exist, such as Bigfoot, the Loch Ness Monster, and others. They also have fun with related topics such as ninjas and ghosts! Generally good for all ages – will usually have a tag if the episode contains content inappropriate for kids.
Science Friday – NPR's reliable science news show, usually hosted by Ira Flatow, covers lots of current and relevant topics in the science world. They often have great interviews, and they also have fun videos on their site.
This Week In Science (TWIS) – Kirsten "Dr. Kikki" Sanford and Justin Jackson talk about lots of the current topics in science, and often have discussion and interviews with scientists and writers. Usually kid-safe, unless Justin is on a rant, and has great music.
Stuff You Should Know – General info podcast by the How Stuff Works website. Chuck, Josh and Jeri cover lots of great topics that you may have never thought about, such as "How Does Silly Putty Work?" and "How Does the Peace Corp Work?"
Stuff to Blow Your Mind – Science info podcast by the How Stuff Works folks. Robert and Julie discuss science news and innovations, a single topic at a time. A great way to catch up on things you didn't know or missed in the news!
Tech Stuff – Tech info podcast, again by the How Stuff Works people. Jonathan, friend, podcaster, RenFair actor and writer for HSW, co-hosts this podcast with Chris, where they talk about computers, gadgets, the internet, and all kinds of tech topics. A great way to catch up on the new cool toys everyone is talking about!
Stuff You Missed in History Class – History info podcast by the How Stuff Works website. These ladies choose specific subjects within history, and discuss the "real deal" of what happened. Jack the Ripper, Catherine the Great, the Freedom Riders – you name it in history, these ladies have probably talked about it. Great for getting a kid started on a research project  on a particular person or event in history!
Dan Carlin's Hardcore History – This is for serious history buffs, but if you are, you'll love how much detail and time is spent on each subject. Dan discusses lots of wars and conflicts, as well as particular periods in history and specific figures of note. His shows are infrequent, but worth the wait!
I hope you find some shows that you like or can use! I'll have more selections soon, and we're still looking for Halloween costumes and pictures!
Please email me with your own comments at howtogrowyourgeek-at-gmail-dot-com, or call my voicemail number at (678) 235-GROW (4769) and leave your thoughts. And last but not least, you can follow me on Twitter at SusietheGeek or the show at HowToGrowGeek!
Logo Art by Tim Coffey
Theme music courtesy of Jonathan Coulton
Promo: Technorama and Podculture