HTGYG Show #121: Jimi & Isaac, School Project Materials and Having a Good Craft Closet!
[ 49:59 ]
Play Now
|
Play in Popup
|
Download
In this episode, the first thing I do is review the new book by Phil Rink – Jimi & Isaac 1a: School Soccer. This book is a wonderful story of how trying something new and changing up habits is a good thing which can lead you to discovering talents you didn't know you had! You can pick it up here at Amazon – please support independent authors that you like! Thanks to Phil for the book, and we look forward to more in this fun series, aimed at upper elementary and middle schoolers.

Air-dry clay, cardboard, acrylic craft paints and printed pictures
Then I discuss two different topics that work well together – supplies for school projects and having lots of craft supplies for cold, dreary afternoons with bored kids. I list basic supplies to have on hand that are good for all ages, and then talk about how we've used some more advanced supplies in craft projects and how that can be helpful for those school dioramas and models. Check out these pics for some of the projects I mention.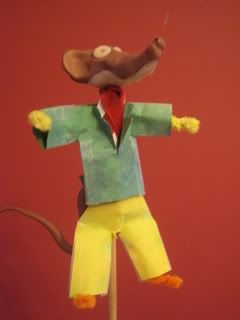 Geronimo Stilton puppet made from polymer clay, pipe cleaners, construction paper, tape and a wooden dowel

Polymer clay organelles in a glycerin soap cell model
Please email me with your own comments at howtogrowyourgeek-at-gmail-dot-com, or call my voicemail number at (678) 235-GROW (4769) and leave your thoughts. And last but not least, you can follow me on Twitter at SusietheGeek or the show at HowToGrowGeek!
Logo Art by Tim Coffey
Theme music courtesy of Jonathan Coulton
Promo: Technorama and Tuning in to SciFi TV